You must have heard the famous saying, "A picture speaks a thousand words", which seems justified in its own context, but when it comes to Instagram your picture might seem lost in a vast sea of visuals.
For your visual gem to drive any engagement, it would need the company of a well-thought expression. A well-thought Instagram caption would be the one that provides context, connects with your style, and drives engagement. It is here that the majority struggle as writing a relevant caption can be really hard and might seem like an added work that you don't have time for. 
Whether you are a voracious reader, savvy searcher, or AI aficionado, we have the methods in place for you to find your perfect expression.
Use Cretorial Photo Expression Wizard
Looking for creative ideation and want our technology to help you? Our Photo Expression wizard will suggest keywords for your photo and help you find your favourite expressions from popular quotations, hashtags, thoughts, creative suggestions, blog ideas and much more! 
To get started, upload your photo in the Photo Expression wizard. The wizard analyses your photo and suggests tags based on what you can see (photo see), feel (photo feel), or connect (photo connect), that will be used to fetch expressions. You can refine the suggestions by removing the tags you do not need and adding your own tags for better results.
Once you select the expression, you can take it into our in-app photo editor to finalise and tweak your post, adjusting the font, brightness, saturation, background, do the text placement. You can also do photo-editing here. Bingo! Creating a social media masterpiece was never that easier before.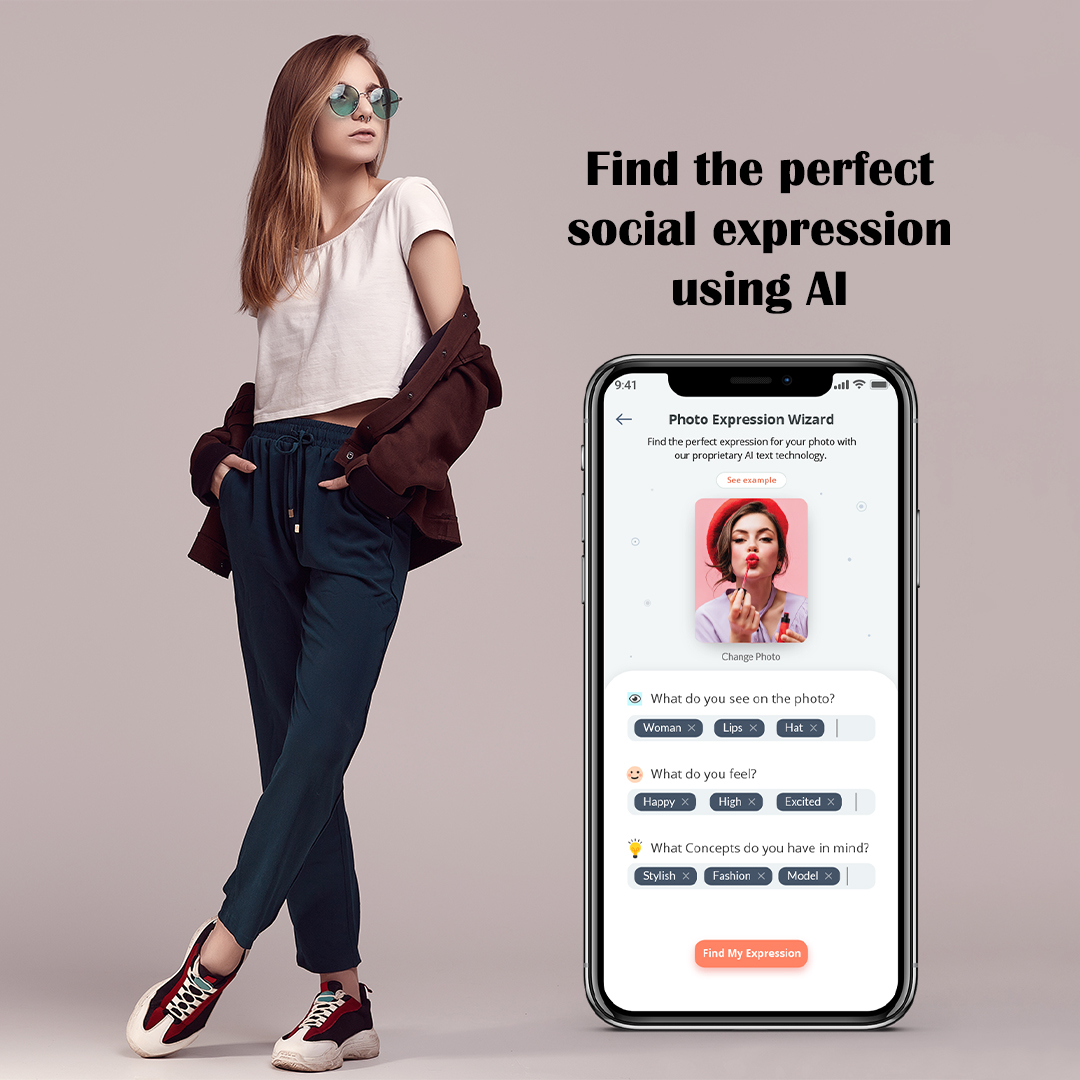 Use Curated Categories and Themes
If you love scanning, sorting, and selecting, follow our language-category-themes organization to find your perfect expression. You can select expressions from five languages: English, Hindi, Spanish, Bangla, and Hinglish! Each language set has 10 to 40 categories, and each category has many themes. 
With the diverse categories on offer with deeply focused thematic niches, getting the perfect expression could never be any easier! Browse a category to get a standard expression that you feel might gel well with your picture or dive deeper. As an example, you can get a standard attitude expression for your picture or dive deeper with our pre-set themes into a category to get focused prospects of the same emotion- attitude denoting success, mindset, or being savage. You decide, we deliver!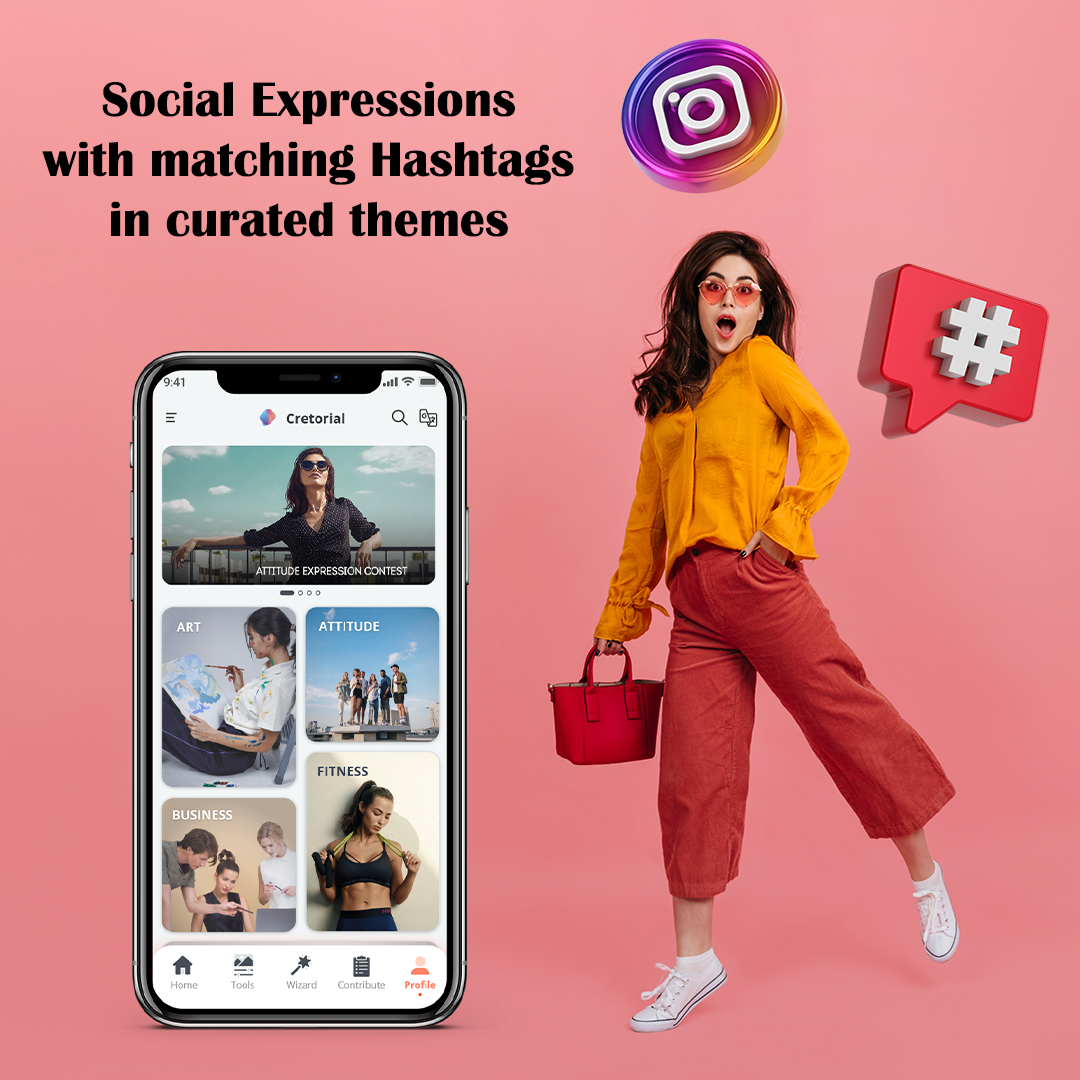 Use Search and Filters
When you know your keyword—a word (for example, family), a feeling (for example, ecstasy), a concept (for example, teamwork), just search for the keyword and find your expression. There are multiple prospects for you to search and narrow down on your perfect expression.
Keyword Match: Keep this feature 'on' if you want to get exact search matches. When you enter a keyword (for example, love), with the keyword match 'on', you will get focused expressions with the word- Love. Try turning this feature 'off' to expand your search and get more creative results. 
Tonality and Word Limit: You can filter your search results around a specific tone. We have a variety of presets for you to choose from to find your perfect theme. When you enter a keyword (for example, love), you can choose the type of theme of the expression. It could be love advice, an inspirational love, or a sarcastic love caption, and more. Further, you can also set the desired word limit for your expression results with our word limit filter.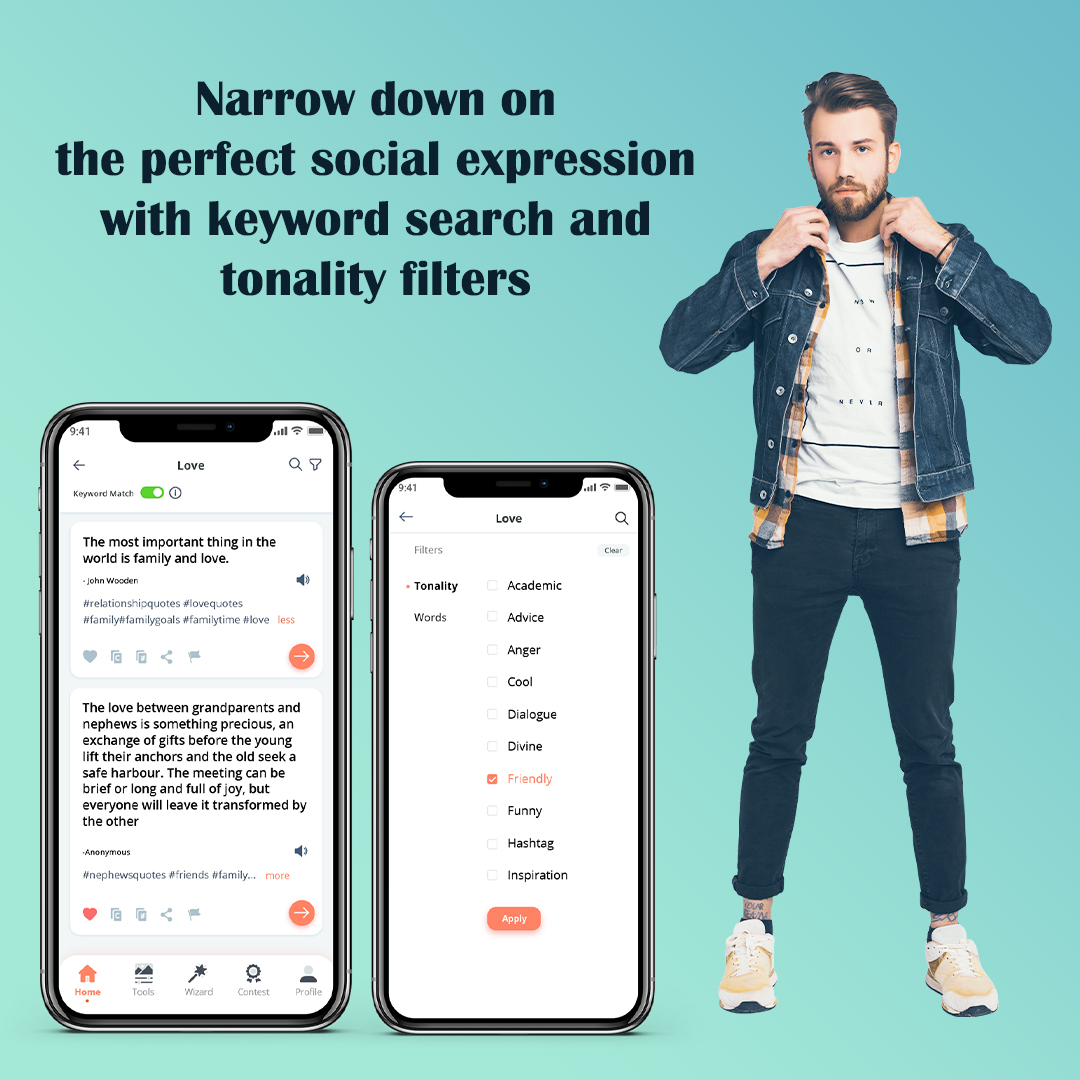 Let us breathe life into your social clout together! Download now to transform your raw photos into sensational social media posts instantly and experience true engagement.